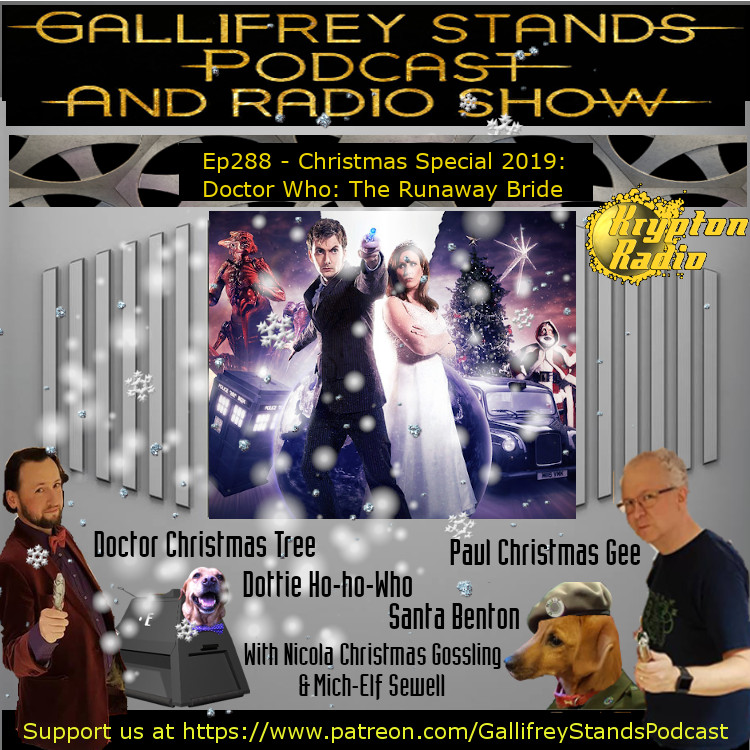 The gangs all here for this years Gallifrey Stands Christmas special to talk about the Runaway Bride. Paul 'Christmas Gee' sets the questions for our Christmas games, Mich-elf Sewell gets clues from Santa Benton as to the answers. Nicola questions how many hueon partials it takes to kill a man and Doctor Christmas Tree tries to keep it all in order whilst Dottie ho-ho-Who chills by the log fire. We also feature the trailer for this years Chirstmas full cast audio drama from Gallifrey Stands: Doctor Who: Gone but not Forgotten. Merry Christmas folks!
Support the show by buying some GS merch at https://teespring.com/
Or Via patreon at https://www.patreon.com/GallifreyStandsPodcast
Listen to us every every Friday on http://kryptonradio.com/ at 11am & Midnight BST (UK) / 3am and 4pm Pacific time (US). Other time zones are available! On Podcast shortly after.