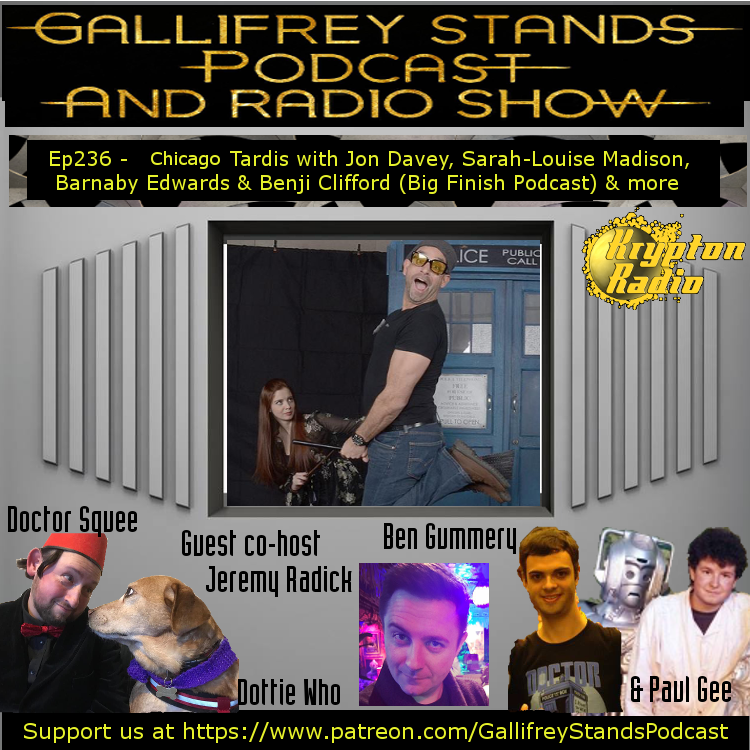 As part of Squeefest (live 24 hour podcast in support of Dogs For Good) Squee is joined by guest co host Jeremy Radick (Doctor Who TV movie) & roving report Jon Davey (Doctor Who creature performer). Jon is live on skype to bring us interviews from Chicago Tardis from Barnaby Edwards, & Benji Clifford (Big Finish Podcast), Ken Deep (LI Who), Sarah Louise Madison (Weeping Angel). This is recorded live, so expect anything and everything!
Listen to us every Thursday in podcast form or every Friday on http://kryptonradio.com/ at 11am
& Midnight BST (UK) / 3am and 4pm Pacific time (US). Other time zones are available!
Gallifrey Stands can be found at on twitter @DoctorSquee, by email
GallifreyStandsPodcast@gmail.com, on stitcher, iTunes, The Tangent-Bound Network, Satchel Player
& http://gallifreystandspodcast.podbean.com & on Facebook
https://www.facebook.com/groups/1481026762176392/
Please support our Pod-Pals too:
Due South by South East https://www.wonkyspanner.com/podcasts/duesouthbse/rss.xml
DisAfterDark http://disafterdark.blogspot.co.uk/
Just give me a few minutes http://justgivemeafewminutes.podomatic.com/
AMAudioMedia http://amaudiomedia.com/
TangentBoundNetwork http://TangentBoundNetwork.com/
Drinking in the Park http://Neilandjohnny.com
EMC Network http://www.electronicmediacollective.com/