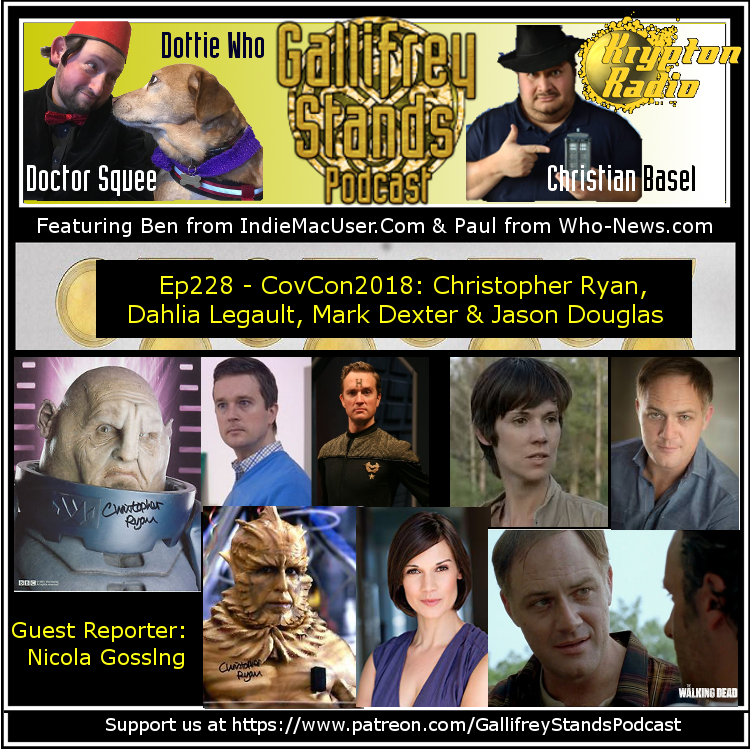 We bring you more highlights from CovCon2018 where Squee & guest reporter Nicola talks to Christopher Ryan (Doctor Who, Only Fools & Horses, The Young Ones) & Mark Dexter (Doctor Who, Red Dwarf, 24) and he host a panel with Dahlia Legault & Jason Douglas who talk Walking Dead. Also Paul Gee gives the low Down on new companion Graham in WhoNews and Ben talks about the latest Big Finish release celebrating 20 years of Bernice Summerfield on audio in Round up Reviews.
Listen to us every Thursday in podcast form or every Friday on http://kryptonradio.com/ at 11am
& Midnight BST (UK) / 3am and 4pm Pacific time (US). Other time zones are available!
Gallifrey Stands can be found at on twitter @DoctorSquee, by email
GallifreyStandsPodcast@gmail.com, on stitcher, iTunes, The Tangent-Bound Network, Satchel Player
& http://gallifreystandspodcast.podbean.com & on Facebook
https://www.facebook.com/groups/1481026762176392/
Please support our Pod-Pals too:
Due South by South East https://www.wonkyspanner.com/podcasts/duesouthbse/rss.xml
DisAfterDark http://disafterdark.blogspot.co.uk/
Just give me a few minutes http://justgivemeafewminutes.podomatic.com/
AMAudioMedia http://amaudiomedia.com/
TangentBoundNetwork http://TangentBoundNetwork.com/
Drinking in the Park http://Neilandjohnny.com
EMC Network http://www.electronicmediacollective.com/
The Legend of the Travelling Tardis https://www.facebook.com/TheTravelingTardis/