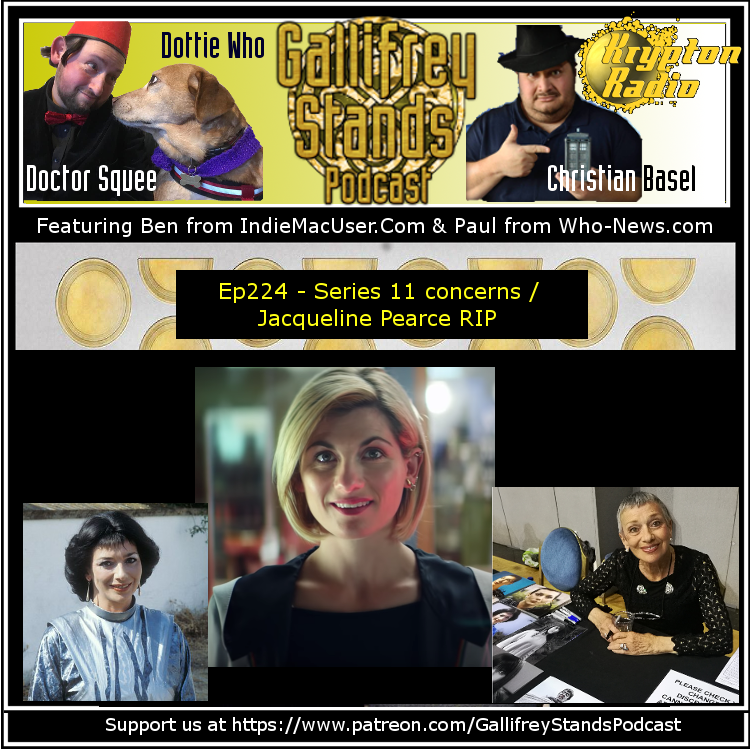 As much as we like to keep it positive on Gallifrey Stands, we talk through just a few concerns about the upcoming series. Paul Gee pays tribute to the wonderful Jaqueline Pearce who passed away this week in the Who News and as always Ben gives us the latest is the world of Big Finish in Round up Reviews.
Listen to us every Thursday in podcast form or every Friday on http://kryptonradio.com/ at 11am
& Midnight BST (UK) / 3am and 4pm Pacific time (US). Other time zones are available!
Gallifrey Stands can be found at on twitter @DoctorSquee, by email
GallifreyStandsPodcast@gmail.com, on stitcher, iTunes, The Tangent-Bound Network, Satchel Player
& http://gallifreystandspodcast.podbean.com & on Facebook
https://www.facebook.com/groups/1481026762176392/
Please support our Pod-Pals too:
Due South by South East https://www.wonkyspanner.com/podcasts/duesouthbse/rss.xml
DisAfterDark http://disafterdark.blogspot.co.uk/
Just give me a few minutes http://justgivemeafewminutes.podomatic.com/
AMAudioMedia http://amaudiomedia.com/
TangentBoundNetwork http://TangentBoundNetwork.com/
Drinking in the Park http://Neilandjohnny.com
EMC Network http://www.electronicmediacollective.com/
The Legend of the Travelling Tardis https://www.facebook.com/TheTravelingTardis/